Proverb Pinot Grigio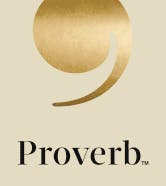 Aroma: Fresh citrus aromas and shines with notes of luminous pear and apple. Mouth Feel: This wine is made with juicy, ripe grapes harvested at optimum maturity to deliver a bright and balanced taste. Food Pairing: Proverb Pinot Grigio shines both as a stand-alone treat and paired with scrumptious foods such as light shrimp dishes or a crisp Caesar salad.
This is a vintage item, but we do not track the vintage in inventory. The information shown describes a recent vintage of this item, but may not describe the vintage you will receive. If you require a specific vintage of this item, please contact us to inquire about availability.