Enrique Mendoza La Tremenda 2014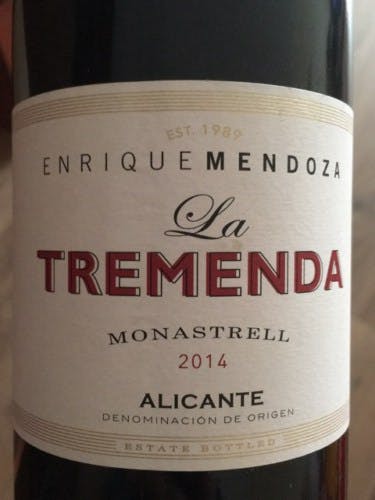 The name "La Tremenda" references the name of the vineyard from which the grapes for this wine are grown and handharvested. Made entirely from mature Monastrell vines, carefullyraised in the harsh, arid landscape of Alicante. "The vine must suffer..." and here it does.
Bright ruby-red in color, this wine shows expressive notes of fresh black cherries and red berries mingled with hints of sweet spice, toast and cocoa. On the palate, this accessible red shows silky texture, liveliness and long length.
Pair it with pork chops Normandy, Kobe beef, or parmesan-crusted asparagus tips.
Wine Advocate"The 2014 feels very tender, it has the esparto grass austerity of the stony vineyards with the chalky soils and a myriad of Mediterranean herbs. They used some stems for the fermentation, which added a fine thread and makes it subtly textured. It has the dusty tannins and the saline tastiness of the limestone soils. It represents a superb value and a great introduction to the Monastrell from Alicante; the price is hard to believe. There are some 50,000 bottles from this vintage."